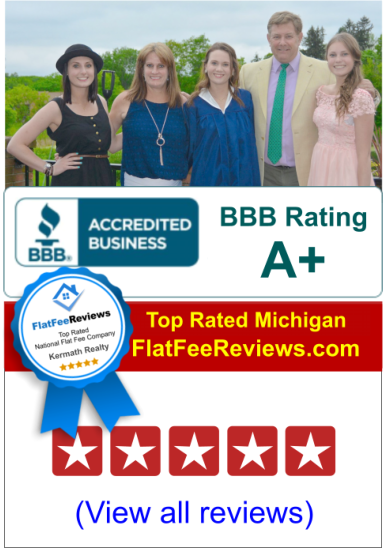 LIST LOCAL & DIRECT ON THE REALTOR® MLS FOR A SMALL FLAT FEE

Welcome to Michigan's #1 Flat Fee Direct Listing Service. We list your property on the Michigan MLS for a low flat fee, instead of paying 6% or 7% typically charged at closing. Get the same services for a fraction of the cost and save thousands!

WHY LIST WITH FLATFEEMICHIGAN?

We are not a referral service. We are a family owned and operated business.
We are the original direct & local Flat Fee MLS Listing Service. Accept no imitation!
Jeff Kermath is the licensed broker who brings 30+ years of experience.
Your listing appears on the top sites, no different than a local, traditional agent!
We have over 6,000 successful listings! Better service, better results, period.
Flat Fee Michigan is Michigan's #1 Flat Fee Listing Service
6,000
Successful Listings
30+
Years Experience
Millions
Saved
---

Your best approach to sell is Flat Fee
The way properties are bought and sold has been drastically altered by the internet. Just like other listings, we place yours on the MLS, and only pay a commission if a buyer agent successfully introduces a buyer to you.

Get the Same MLS as Regular 6% agents, but save money and pay no buyer agent commission!
You won't pay a buyer agent commission if you sell as a FOR SALE BY OWNER MI, but we'll still assist you in the process. When you are ready to buy, take advantage of our full service flat fee mls Michigan and our rebate program to receive a home buying rebate. In fact, if you deal with us, buying and selling can sometimes cost little or no commission.
Use our home buyer rebate to buy your next home

We rebate up to half of our commission to you at closing! It's that simple!
A home buyer rebate is where your buyers agent gives back to you or "Rebates" part of their commission at closing when you buy a property using them. Use us as your home buyer rebate broker on the buy side we give you up to 50% of our commission to you at closing!
Use our name as your agent with a builder and you earn half of our commission!
Learn More
Feed To As Many Sites As A Traditional Agent!
Your listing datafeeds to all the great sites, NO different than a local, traditional agent!

Promote your property like never before. Get your listing on top websites with a single click.


Calculate Your Flat Fee Savings
By using this calculator, you can see how much you'll save with our flat fee packages as compared to paying the traditional 6% typically charged at closing.
Fill our your property price below to discover your savings
Listing with Our Flat Fee Program is Easy
Step 1: Choose a Program
Select which package would work best for your listing.
Step 2: Place your Order
You'll be taken to the order page that is secure so you can checkout with a credit card or Paypal.
Step 3: Complete Documents
Complete digital docs online (no printing or faxing). This takes about 20 minutes.
Step 4: Email your Photos
Then email your photos to us so we can add them to your listing.
Once we have your documents; listing agreement, sellers disclosures, lead based paint (provided) and the datasheet giving us the info on your home and photos we login as the broker / member of the MLS & input your listing. We have you listed generally within 24 hours.
LIST YOUR HOME NOW